Starting Tues for pickup/delivery (1/15 – 1/18)
Healthy Turkey Soup!  (Omni-Vor)
Roasted Sweet Potatoes & Cauliflower NEW!!!  (Veg-An)
Sesame Hummus w/Stix! (Veg-An)
Mediterranean Bowl/Wrap!
Dreamy Green Salad!
Hand-crafted Power Bars!
Energy Brownies
Healthy Turkey Soup NEW! 
Home-made turkey stock with yummy veggies, turkey tid-bits and broad noodles.  Much healthier than store/restaurant brands.  It will feel like home, I promise!  Our generous serving is about 200 calories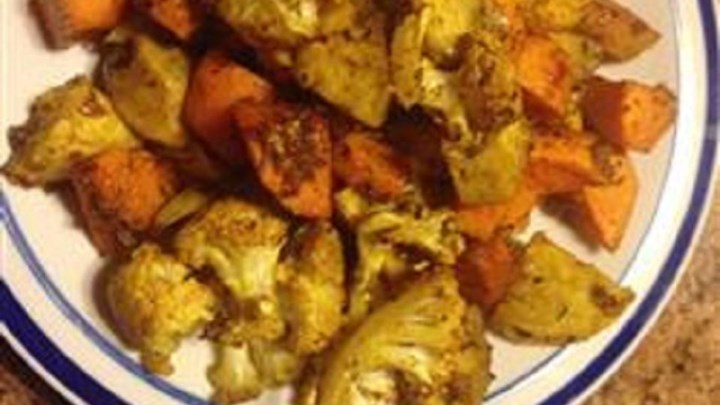 Roasted Sweet Potatoes & Cauliflower NEW!!!
  Veggies can be boring, so we have amped up this side dish for your tastebuds and your nutrition. Curry flavors with caramelized cauliflower and sweet potato.  Suggest serving warm, but it will be good anyway you eat it!
Sesame Hummus  w/ Stix!  Hand-crafted never tasted better.  Lemon, garlic, cumin, and tahini blended in our famous hummus  Served with a stack of celery, it makes for a flavorful and healthy snack filled with fiber, protein and joy
Yummy Bowls/Wraps!  This week, try our tasty and healthy 
Mediterranean Bowl/Wrap!
with fine lemony-mint couscous, red onion, olive, sun dried tomato, and crunchy romaine. Less than 320 cals/serving and served fresh and tasty!
LO-CARB Option!!  Substitute a bowl instead of tortilla if ordered by Saturday for next week!   AND/OR,
Chicken Option!!  Add 42 grams of fresh roasted chicken if ordered by Saturday for next week! Only $1 extra!
Dreamy Green Salad! Our BIG green salads are fresh, seasonal, and diversified with a variety of veggies, protein, fiber and flavor!  This week's salad includes: toasted pecans, egg, cucumber, apples, snap peas, and green onion,
with a creamy Poppy Seed dressing.
  You can ADD 64 grams of fresh roasted chicken to your salad for only $1.50! (picture may not represent current menu item)
 Natural Power Bars!  Handy, tasty, healthy, and chemical/ preservative-free (so much better than the commercial ones that stay on the grocery shelf for a year!).  Each bar contains 15 grams of protein and only 180 calories.  This is a great snack/breakfast solution for busy day. This week  we offer  a  Date-Nut!
Energy Brownies!   Everyone needs a treat now and then!   Home-made and best eaten frozen, in my opinion!  Just a few bites can satisfy your needs!  A bit of cinnamon n espresso make these treats special!